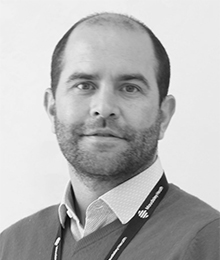 Dr James Hurley
Position:

Clinical Psychologist

Experience:

Location:

Al Amal Hospital

Email:

#

Phone:

#
Dr. James Hurley completed the MSc in Mental Health Studies at the Institute of Psychiatry, Psychology, and Neuroscience (IOPPN), Kings College London. He was subsequently employed at the IOPPN as a research worker for a randomised controlled trial that aimed to improve Cognitive Behavioural Therapy for persecutory delusions. James completed his Doctorate in Clinical Psychology at the University of East Anglia and, during his career to date, he has pursued his values and interests in promoting cognitive and systemic approaches to supporting adults diagnosed with psychotic disorders, as well as their loved ones. To this end, James is qualified and experienced in Cognitive Behavioural Therapy for psychosis, Acceptance and Commitment Therapy for recovery, and Behavioural Family Intervention for psychosis. James has also taught, trained, and supervised clinical and academic colleagues in these areas.
James has had a central role in planning and implementing two new community psychosis services in London; one within the recovery services in Barnet, Enfield, and Haringey Mental Health Trust, and the second with the Tower Hamlets Early Intervention Service in East London NHS Foundation Trust. During this time, James has also pursued his interests in staff wellbeing and was the lead debrief coordinator for staff within Tower Hamlets.
James has published in the areas of cognitive and digital interventions for psychosis, as well as promoting recovery for psychosis.
Having experience of working clinically across the age range, James is currently working in the Mental Health of Older Adults Clinical Academic Group at Al-Amal Hospital, Dubai.
Contact With Dr James Hurley
تواصل عبر Dr James Hurley