Mindfulness Based Cognitive Therapy for Depression (MBCT-D)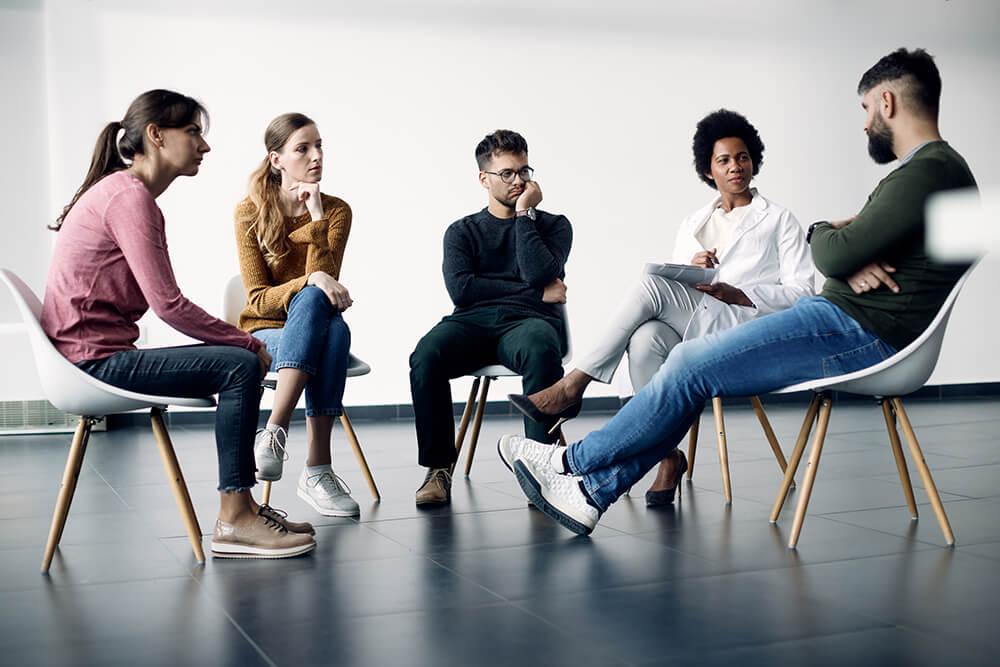 Mindfulness Based Cognitive Therapy for Depression
Maudsley Health Abu Dhabi is excited to offer a new psychological therapy to support mental health, presenting the evidence-based and well-researched MBCT-D 8-week mindfulness skills group program. The UK's National Institute of Clinical Excellence (NICE) has recently endorsed MBCT as an effective treatment for the prevention of relapse of depression, based on findings showing a 50% reduction in rates of relapse among patients who suffer from recurrent depression. It has been shown to be as effective in preventing relapse of depression as antidepressant medication. The newest NICE guidelines have also endorsed MBCT for treatment of current low-level depression.
MBCT-D is a skills-based group program that teaches the tools to combat depressive symptoms. By continuing to practice these skills on a regular basis, applying and integrating them into their day-to-day life, participants are better able to respond effectively when depressive symptoms arise. This occurs because of mindfulness' proven effects in reducing mind wandering, rumination (repetitive thinking), and cognitive and emotional reactivity, and then by increasing decentering, self-compassion, positive emotions, and values-consistent behaviour.
What is mindfulness? It is a natural capacity we all have to pay attention without judgment to the present moment. Regular meditation practices help us learn skills to consistently bring attention to our moment-by-moment experience, while holding attitudes of interest and curiosity, openness, acceptance and kindness. In doing so, we strengthen our ability to recognize mind wandering and automatic patterns of reactivity, and increase our capacity to choose more skillful responses to the stresses of daily life.
General research on mindfulness provides strong evidence that it can improve mental clarity and focus, boost mood, increase self-confidence, reduce insomnia, improve functioning of the immune system, reduce blood pressure, decrease severity of chronic pain and increase the ability to cope with the presence of pain. Regular mindfulness practice increases psychological wellbeing in general and reduces stress, increases self-compassion and empathy, and can make us kinder. There is also strong evidence to show the positive effect of mindfulness on memory, attention, processing and executive functioning. A systematic review of research to date suggests that mindfulness may also lessen cognitive decline due to mental and emotional stress.
Rooted in ancient wisdom and contemplative practices, which have then been combined with cognitive-behavioral methods developed in modern psychological science, MBCT-D interweaves meditative practices and attitudes with cognitive therapy strategies and interventions to help us see more clearly the patterns of our mind and default, habitual reactions. By teaching skills to recognize when our mood is starting to spiral, become familiar with depressive modes of thinking and feeling, and to de-escalate negative thoughts and patterns of reactivity, MBCT-D enhances detection of early signs of depressive relapse and symptom reduction.
The Mindfulness Based Cognitive Therapy course may be right for you if any of these are true:
You have had 3 or more previous episodes of depression but are now in remission and want to prevent future relapse.
You are currently experiencing mild to moderate symptoms of depression
You have a history of depression along with anxiety.
You are currently in treatment for depression (medication and/or therapy) and would like to learn additional skills to help boost your progress.
You are interested in an evidence-based alternative to antidepressant treatment to prevent relapse of depression.
You would like to learn more about how your mind works and how to change some of its patterns of thinking and feeling.
You would like to learn skills to be more self-compassionate and kinder to yourself.
How The Group Will Operate:
8 Consecutive Weeks: 29th April, 2023 to 17th June, 2023
2 hours, 15 minutes per class
45 minutes daily home meditation
One full day (5 hour) "retreat" or practice day on 31st May, 2023 (this is an integral and required part of the course)
Class Timings: Saturdays from 12 PM – 2:25 PM. Class will start promptly on time.
Cost: 2750 AED for the full course (total of 23 hours)
Maximum class size: 16 participants.
Venue: The Third Place Café (upstairs function room)
Location and Facilities: In-person at The Third Place Café (upstairs function room), Corniche Rd and Al Bateen Rd, Villa T3, Abu Dhabi.
Prerequisites:
Participants can be referred by their doctor or therapist, or may self-refer by contacting the
group leader, Dr. Arlene Cooke, Consultant Clinical Psychologist, to register your interest at
Arlene.Cooke@maudsleyhealth.com
All applicants will be asked to complete a brief questionnaire to evaluate whether this group
is right for you at this time before being accepted into the course.
Each participant will attend a 45-minute one-on-one orientation session with Dr. Cooke prior to the start of the group.29Apri
Register your interest
Do not hesitate to contact us if you need assistance. We are always here to help.

If you are experiencing similar
problems please contact us