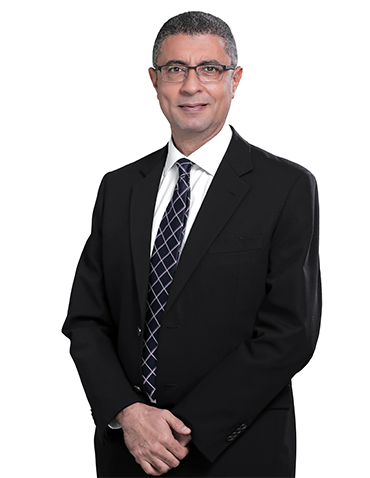 Dr Amr Nour Eldin
Position:

Consultant Psychiatrist and CAG Lead- Forensics

Experience:

Location:

Al Amal Hospital

Email:

#

Phone:

#
Dr. Amr Nour Eldin is a Senior Consultant Psychiatrist at Maudsley Health, Dubai. He completed his general psychiatry training at Guys and St Thomas rotation in London and completed his higher specialist training in South London and Maudsley NHS Foundation Trust in London, where he worked in both Adult and Forensic Psychiatry. Following training, Dr. Amr then worked as a Consultant Psychiatrist in the National Health Service in the UK, before moving to Canada in 2012.
Having trained and qualified in the UK, Dr. Amr obtained the following degrees: Diploma in Psychiatric practice (King's College London), Master's degree in human development and Forensic mental health studies (King's College London), the MRCPsych, and the Fellowship of the Royal College of Psychiatrists (FRCPsych) In Canada, Dr. Amr worked as Assistant Professor and Consultant Psychiatrist at Dalhousie University before moving to the UAE in 2017 to join Al Ain hospital as a Consultant Forensic and Adult Psychiatrist.
Dr. Amr has led undergraduate and postgraduate educational programs; he was appointed as Director of Medical Education in Canada. He was also the Program Director of the Masters degree in Addiction Sciences at Erada center, Dubai.
Dr. Amr has significant expertise in service development; he was the Medical co-lead for the mental health and addiction service development committee in Nova Scotia Health Authority, Canada.
Dr. Amr has research interests and has published in peer reviewed journals. His clinical interests include the management of Schizophrenia, dual diagnosis, mood disorders, anxiety disorders, and adult ADHD.
Dr. Amr was previously Assistant Professor of Psychiatry at UAE University. He is currently an adjunct Associate professor at Dubai Medical College and is a fellow of the Royal College of Psychiatrists in the UK.
Dr. Amr is very pleased to bring the expertise he has gained internationally to Maudsley Health in the UAE.
Contact With Dr Amr Nour Eldin
تواصل عبر Dr Amr Nour Eldin