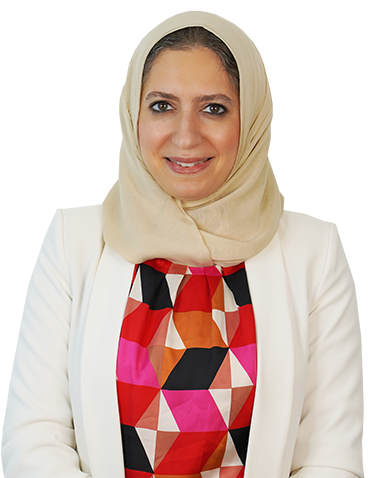 Dr Dina El Tabei
Position:

Specialist Psychiatrist Child and Adolescent

Experience:

Location:

Email:

#

Phone:

#
Dr Dina El Tabei is a Consultant Psychiatrist in the Children and Adolescent Mental Health team at Maudsley Health, Abu Dhabi. She has completed M. B. B. Ch., and Master's Degree (MSc) in Neuropsychiatry from the Faculty of Medicine at Cairo University. She also has a Medical Doctorate (M.D) in general psychiatry from Cairo University. Dr. El Tabei is a Member of the Egyptian Child and Adolescents Psychiatry Association (ECAPA).
Dr. Dina El Tabei received basic psychiatric clinical training at the Adult Psychiatry Unit as well as the Addiction, Geriatrics, Liaison, Child and Adolescents Units at the Psychiatry Department of Cairo University. Dr. Dina El Tabei's psychotherapeutic experience entailed official personal training in individual psychotherapy as a part of the residency training program in Psychiatry. As well as group therapy experience and later training in Matrix Groups for addiction.
Dr. Dina's higher specialized training was in child and adolescent psychiatry, Dr. Dina had extensive training at the University of Pittsburgh Medical Center (UPMC), Pittsburgh, PA, USA. There, as part of her academic program, she covered Principles of Genetic Counseling in Magee Women's Hospital. Her clinical mental health training included Autism Diagnostic and Observation Schedule Evaluation at the Merck Outpatient Clinic, Managing Psychiatric Patients at the Hill Recovery House, and the Western Psychiatric Institute (WPIC). She worked in Genetic Research in Psychiatric Disorders in collaboration with the University of Pittsburgh, USA. After accomplishing the first phase of a research project in the genetics of Autism in Egyptian children, which was the first of its kind in Egypt, Dr. Dina El Tabei was chosen to mentor other students on the same grant in collaboration with the University of Pittsburgh.
Dr. El Tabei was also a Lecturer of Psychiatry at the Children Mental Health Services at Cairo University where she has supervised the autism clinic, coordinated a rehabilitation program for Children with Autism Spectrum Disorder. Dr. Dina had training in both outpatient and inpatient facilities giving her experience in the assessment and management of a broad range of presentations for children and adolescents including behavioral problems, neurodevelopmental disorders with an emphasis on genetic etiologies, mood disorders including; depression, bipolar and disruptive mood dysregulation together with other disorders: anxiety, OCD, Psychosis, conduct, and psychosomatic disorders
Aside from her clinical practice and as Lecturer at Cairo University. Dr. El Tabei has been involved in teaching as well as examination for both undergraduate and post graduate medical students which gave Dr. El Tabei the opportunity to implement her academic skills to day to day clinical work. As a part of her duties as a lecturer at Cairo University, she mentored junior psychiatrists. Dr. El Tabei has also been teaching at New Giza University which one of the renowned universities in Egypt. NGU collaborates with University College London (UCL) and implements world-class education. Dr. El Tabei lectured in several national and international conferences, conducted workshops and seminars.
Dr. El Tabei's passion for the improvement of mental health status for children and adolescents lead her to participate in multiple community projects; she played a key role in field visits to orphanages in agreement with the ministry of social solidarity including management of complicated presentations of young people with mixed biological, psychological and social problems. Dr. El Tabei also participated in the UNICEF project for street children in Egypt as well as in the CARITAS organization for the management of problems related to refugees, traumatized families, and their children. Dr. El Tabei joined the national program provided by the ministry of education to provide students with basic education about healthy relationships with some highlights on safety tips to prevent different aspects of abuse.
Contact With Dr Dina El Tabei
تواصل عبر Dr Dina El Tabei